Bearded Dragon Veteran
1,000+ Post Club
I think you were closer to getting things right for your dragon when the temp was reading 107 rather than moving the lights and dropping the temp to 103. Not really sure why you would want to go backwards.
Part of the problem may be using the mini halogen bulbs if that is what you have been trying to use as those won't emit as much heat as the full size indoor halogen flood light bulbs will.
The setup that I have given you is not just a bunch of guess work. He guess work has already been taking out of it by hundreds if not thousands of keepers that have used this setup both previously and currently with great success.
As I have mentioned I use the same setup on our dragon's enclosure with no issues once it is dialed in. That dialing in process too is not a complicated process and usually only a matter of making sure that the basking bulb you choose is #1 giving off sufficient heat to get to the proper temp your dragon requires and #2 making sure it is not too powerful.
Here is a pic of Mungi's current 40 gallon Breeder tank enclosure where you can see that my set up is just as I have discribed and recommended that you set yours up like as well.
You can see the 18" UV fixture is mounted inside inside the tank just under the rim, the basking light on the right is a single 75 watt Full size indoor Halogen light in a deep dome fixture and both are positioned to where they are shining directly over the basking spot. You may be able to use a lower watt flood light. Mungi's is suspended above because I only had 75 watt on hand the last time I changed his basking light. Before I used a 50 watt but had the light lowered to just above the screen. The basking spot thermometer probe is attached directly to his basking spot to get the correct reading of that spot on his basking rock. The middle fixture above his enclosure is not currently in use but is for a CHE ceramic heat emitter that is used as a backup only and is on a digital thermostat. The light on his cool side is a 13 watt mini florescent coil bulb that produces no extra heat and is only for ambient light on that side because of the live video we stream from his enclosure during the day.
BTW as you can see he really doesn't care if there is a light over on that side or not during the day and is sound asleep in this pic because he is still in his brumation cycle and only beginning to come out of it so he still naps occasionally on the cool side for now.
His lights are set on a programable and set on a 12 on/12 off schedule and at night there is no lighting nor supplemental heat unless the house temp were to drop below 65F which it wouldnt under normal circumstance but if it were to then the CHE fixture is on hand to correct that. The room he is in is not air conditioned nor is most of our home but it does have central heat during the winter and we generally keep the ambient temp in our home between 72- 78F thru out the year.
His enclosure albeit decorated a little is still very basic. He has a basking spot and a single food dish. He would also have a large rock in there to keep his nails trimmed naturally but since his substrate is slate tile that takes care of that. The only variance really is his hammock which he occasion likes to lounge on and the platform on the cool side that I built to give him another level to climb and instead of a hide because he never really showed any interest in using a hide but preferred to sleep on to of it when he had one.
There are also no places for live feeders to really hide where he can't get to them so most times when he is fed roaches I can leave them in during the day for him to feed on at his own pace.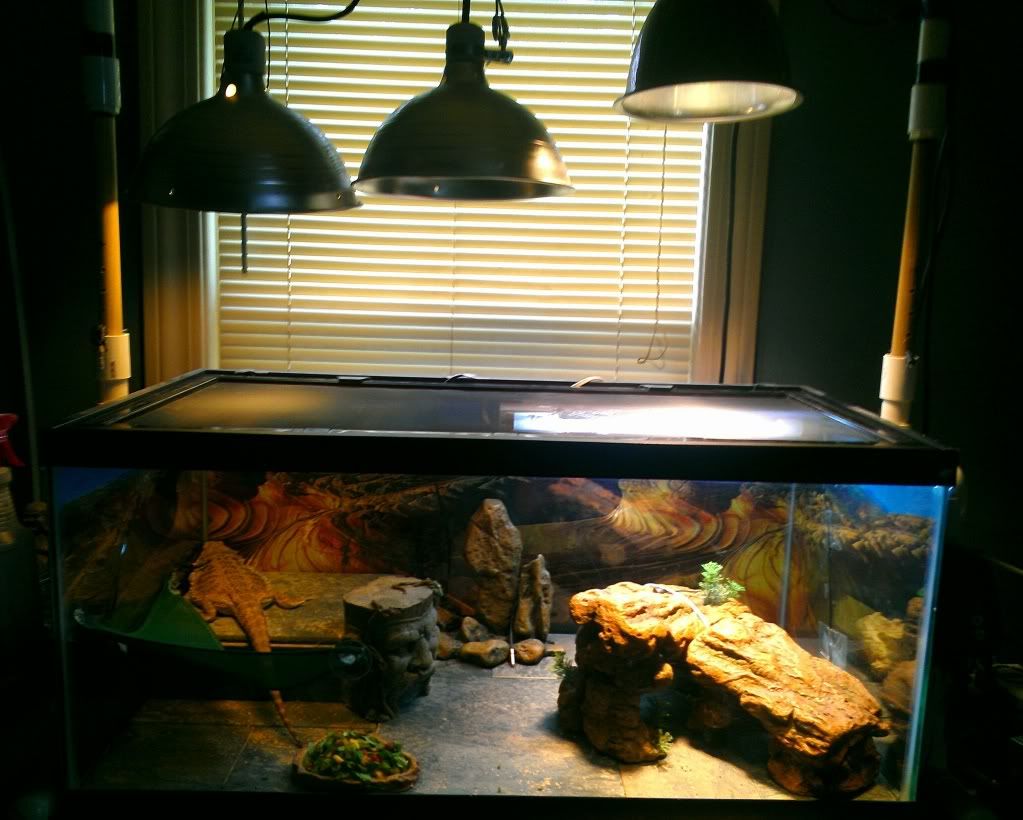 I'm showing you his enclosure to show you that the setup I have described to you and the suggestions I have made work and will work for you too if you will follow them.
The digital thermometers with the probe are very accurate as long as the probes are placed correctly. I would recommend that you attach is directly to the basking spot and concentrate on getting a consistent reading of 110F. It will fluctuate a few degrees during the day but that is the nature of temps. You just don't want it going way over the desired temp.
The gaping that your dragon was doing is perfectly natural and his way of thermo-regulating. As far as him being able to gauge temp radiating better than the thermometer probe he may or may not be able to but using the probe properly attached is the only way we can make sure that he has the right temp available to him and that it is not too high nor to low since unfortunately they don't have a voice to tell us human creatures to turn up or turn down the heat.
One last thing I will point out is the reason for me stating that you need to attach the probe to his basking spot using a twist tie or zip tie or other means is for the exact reason you witnessed when you just laid the probe up there. If it is not attached he will move it every time.
Once again hope this helps!
Enjoy!